Become Involved With UK Dirt - The Number 1 Online Racing League!
Membership to UK-Dirt is free, but there is a fee for drivers who want to race in our main leagues. These are run on a rented super servers, which allows us to run with up to 26 cars per race. The fee covers you for all formulas until the start of the next season(March/April).
For the best online racing action, join today, become part of the UK Dirt family.
2012 belle vue action

Forthcoming Fixtures
F1
Venue:
Bradford (Shale)
Date:
27/09/18
Details:
F2
Venue:
Mildenhall
Date:
24/09/18
Details:
National Series 1Bangers
Venue:
Skegness
Date:
25/09/18
Details:
UnlimitedsSSC
Venue:
Bristol
Date:
26/09/18
Details:
National Series 1
UK Dirt World Champion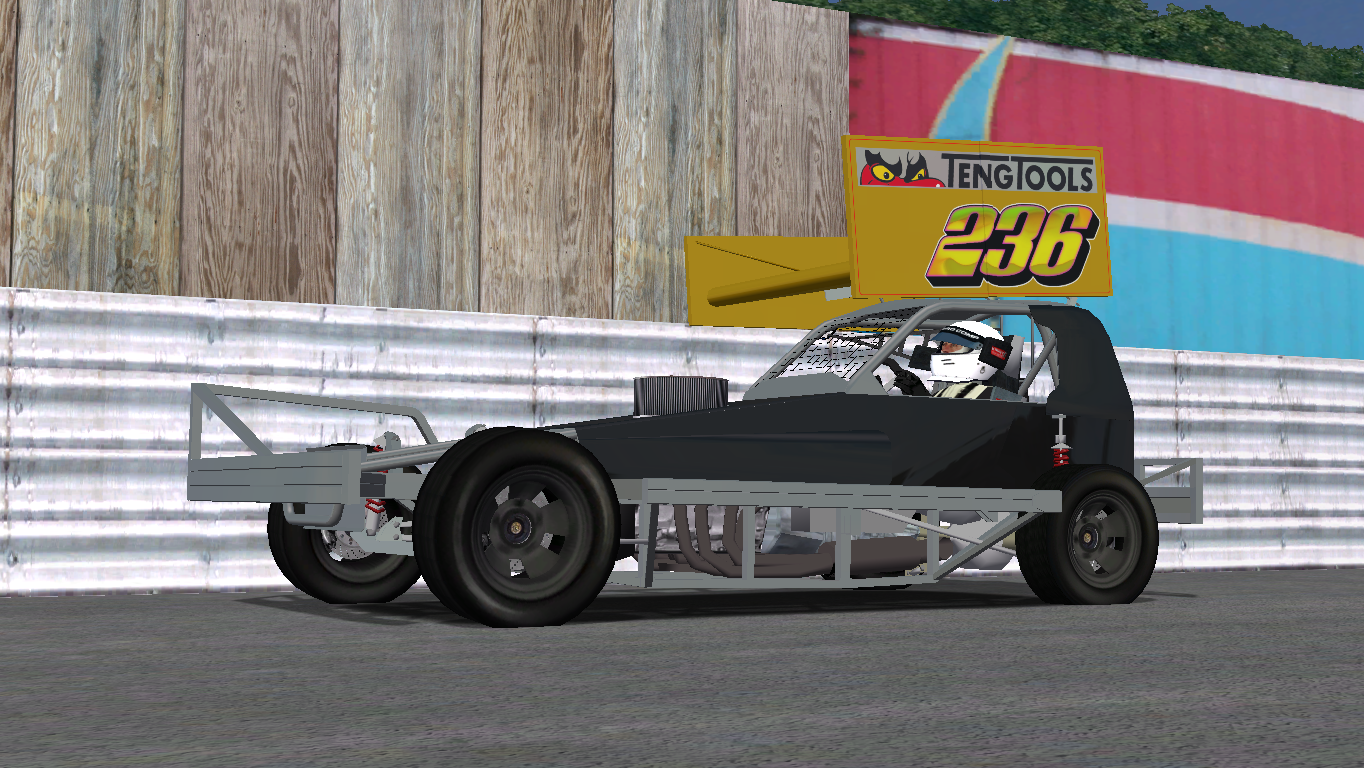 2017 rFactor F1 World Champion:
DanSkin, 236
Could You Be Next?
Latest Final Results
Skegness - 20th September 2018
rFactor F1
World Championship - 24 Cars
1st: 454 Frans
2nd: 39 LeeK
3rd: 888 Ellis_Rogers
4th-10th: 229 246 8 55 167 582 527


Yarmouth - 18th September 2018
Bangers
World Qualifying Round 6 - 13 Cars
1st: 482 ginger
2nd: 151 Dode
3rd: 760 Ryano
4th-10th: 39 274 223 100 255 455 90


Bristol - 17th September 2018
rFactor F2
WORLD CHAMPIONSHIP FINAL - 17 Cars
1st: 229 Tsjalle
2nd: 39 LeeK
3rd: 167 CB
4th-10th: 482, 599, 981, 488, 777, 645, 472, 246, 184, 889,


Mildenhall - 13th September 2018
rFactor F1
- 6 Cars
1st: 527 fast track
2nd: 39 LeeK
3rd: 246 Stox
4th-10th: 645 777 381


Swaffham - 11th September 2018
Bangers
Unlimiteds - 11 Cars
1st: 39 LeeK
2nd: 274 bigdaveUK
3rd: 223 sam g
4th-10th: 100 760 25 151 255 52 455


National Points Charts
F1 National Points
| | | | | | |
| --- | --- | --- | --- | --- | --- |
| Pos | # | Nick | Meets | Ave | Total |
| 1 | 236 | DanSkin | 26 | 94.04 | 2445 |
| 2 | 39 | LeeK | 28 | 54.71 | 1532 |
| 3 | 527 | fast track | 26 | 50.04 | 1301 |
| 4 | 246 | Stox | 28 | 40.39 | 1131 |
| 5 | 167 | CB | 21 | 48.62 | 1021 |
| 6 | 777 | HGR | 22 | 37.68 | 829 |
| 7 | 589 | Stijneman | 25 | 30.8 | 770 |
| 8 | 151 | Dode | 15 | 42.87 | 643 |
F2 National Points
| | | | | | |
| --- | --- | --- | --- | --- | --- |
| Pos | # | Nick | Meets | Ave | Total |
| 1 | 981 | MartinB | 29 | 31.21 | 905 |
| 2 | 167 | CB | 27 | 29.74 | 803 |
| 3 | 184 | Jack Ward | 27 | 25.19 | 680 |
| 4 | 39 | LeeK | 22 | 24.68 | 543 |
| 5 | 482 | ginger | 24 | 20.88 | 501 |
| 6 | 246 | Stox | 27 | 18.11 | 489 |
| 7 | 889 | Ellis_Rogers | 22 | 22.09 | 486 |
| 8 | 229 | Tsjalle | 14 | 32.07 | 449 |
Bangers National Points
| | | | | | |
| --- | --- | --- | --- | --- | --- |
| Pos | # | Nick | Meets | Ave | Total |
| 1 | 760 | Ryano | 23 | 58.26 | 1340 |
| 2 | 39 | LeeK | 22 | 49.23 | 1083 |
| 3 | 274 | bigdaveUK | 24 | 43 | 1032 |
| 4 | 151 | Dode | 25 | 37.92 | 948 |
| 5 | 223 | sam g | 24 | 27.21 | 653 |
| 6 | 25 | MonkPower | 22 | 23.14 | 509 |
| 7 | 233 | Grasser | 12 | 31.25 | 375 |
| 8 | 455 | Kbarker | 18 | 19.72 | 355 |
SSC National Points
| | | | | | |
| --- | --- | --- | --- | --- | --- |
| Pos | # | Nick | Meets | Ave | Total |
| 1 | 39 | LeeK | 23 | 52.04 | 1197 |
| 2 | 503 | Dane Bell | 22 | 47.73 | 1050 |
| 3 | 641 | BryanLee | 21 | 42.9 | 901 |
| 4 | 455 | Kbarker | 17 | 44.41 | 755 |
| 5 | 777 | HGR | 20 | 34.4 | 688 |
| 6 | 977 | James | 21 | 32.52 | 683 |
| 7 | 482 | ginger | 12 | 49.92 | 599 |
| 8 | 379 | kevharbord | 22 | 23.14 | 509 |